Agile Practitioners, Join a Conference Research Team!
Participation Submission Deadline: June 7, 2021
Do you want to gain practical experience applying agile solutions to real-world problems?  When you look at the research topic proposals, can you see yourself joining one of those research opportunities as an active participant?  Do you want to gain a co-author credit for an actual experience report?
If this sound exciting, register to attend the conference by clicking the button below.  Then follow the link to apply for a role within one of the research teams.
Register to Attend
Apply to a Research Team
All conference attendees will have the opportunity to sign on to a Research Team that will help the Client Partners find solutions to their problem. 
There are several specialized roles on each team.  Note:  The first 4 roles require added levels of participation and so will be granted the same benefit as a conference volunteer.  If you take on the challenge of being the Research Partner, Coordinator, Liaison, or Research Lead, your conference fee will be waived (or refunded) as a thank-you for your dedication.
Research Partner (stakeholder) – a member of the Client Partner Organization who will work within the organization to implement recommendations made by the Team, and report back results.
Liaison (product owner) – an experienced consultant who will serve as point of contact between the Research Partner and the rest of the Team during the research period following the conference.
Coordinator (scrum master) – an experienced team member who will take on the responsibility of keeping the team together and engaged throughout the duration of the research period.
Research Lead (author) – an experienced team member who will take responsibility for making sure the whitepaper is produced as a chronical and experience report. 
—
Researchers (developers/co-authors) – conference attendees who sign up to help find solutions to the vexing problem of the client partner organization.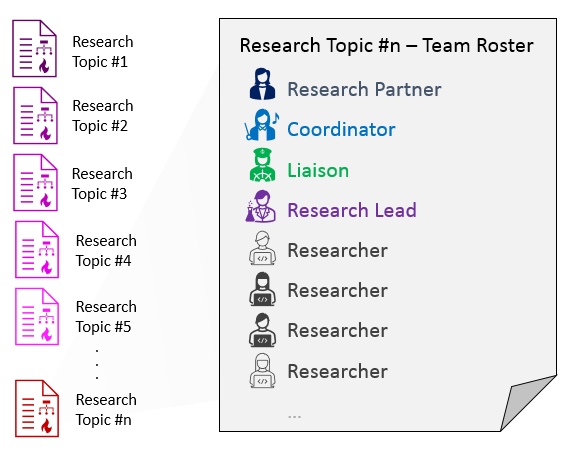 Apply for a special Research Team role
The four special roles on each Research Team will have their conference fee waived or refunded if already paid.
Would you like to take on one of these key roles?  If so, fill out an application by clicking on the button below.
Review the available Research Opportunities to learn about the various Client Partners, and the Challenge they are seeking solutions for.
Current List of Challenges!
Research Topic #1
Shorten the lengthy lead times!
As a large organization with complex product architectures that reflect our matrixed corporate structure,
We want to shorten the lengthy lead times (which we believe are a result of our complex communication pathways),
So that business and technology teams are optimized for fast flow and can deliver product more efficiently.
Hypothesis 1 – per a reverse application of Conway's Law, a simplified product development structure will drive a simpler architecture and would result in reduced lead times.
Research Topic #2
Craft & Communicate a Compelling Story!
As a mission driven and community focused organization continually seeking ever better  outcomes for our constituent population, 
We need to craft and communicate a compelling story that resonates and inspires action from a donor community aligned with our mission,
So that we can garner sufficient financial support to allow us to attract, recruit and retain the highly skilled staff needed to deliver optimal outcomes.
Research Topic #3
Improve Organizational Culture!
As an agency serving multiple communities through regional teams with slightly different programs aligned to a common mission,
We need to create an organizational culture that improves communication and collaboration across multiple work locations and the program portfolio,
So that there is transparency and awareness of all that is going on in the organization as well as provide the opportunity to share existing services across locations.
Research Topic #4
Better Manage Risks!
As a social services organization working with highly traumatized youth placed in our care,
We need to manage the inherent risks that accompany these youth by balancing our mission of working with them while managing the agency's reputation,
So that we can avoid or mitigate the associated risks and maintain our status as a beacon in the communities we serve.
Research Topic #5
Stabilize Funding Of Programs!
As an organization providing programs and services that are generally grant-funded,
We need to stabilize the funding of programs we provide independent of the cycle of a grant,
So that we can avoid the risk having to lay off staff and terminate critical services to children and families when grant cycles expire.
Research Topic #6
Improve Recruitment & Retention!
As an organization with a shrinking pool of employment candidates, in an industry that faces an incredible workforce crisis due to the complexities associated with the mission,
We need to improve recruitment, interviewing, onboarding and retention strategies,
So that we can remain operational and continue delivering positive outcomes.
Please note:
Members of a Research Team will be expected to actively engage with your fellow researchers for several weeks after the conference ends. These participants will gain consulting experience advising the Client Partner organization in addressing their challenge.
Members of a Research Team will be expected to contribute to the gathering of results, and the recording of these results in an experience report.  These participants will gain a co-author credit for the resulting whitepaper.  

Participation Submission Deadline: June  7, 2021